Mexico: Day of the Dead
Celebrating life in true Mexican style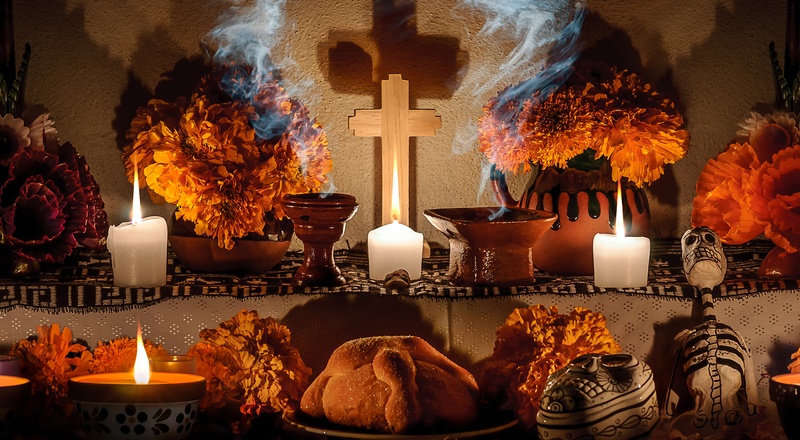 Day of the Dead
Day of the Dead (Dia de Muertos) is a multi-day holiday celebrated in Mexico on November 1st and 2nd. It's a joyful time that helps people remember their departed relatives and celebrate their memory.
In many Indian villages, people gather with their families and loved ones to build private altars called "ofrendas". They decorate these with candles, flowers, fruits, some of the favorite foods of the deceased, stacks of tortillas, big Day of the Dead breads called "pan de muerto", as well as some possessions of the deceased that where important to them when they where alive. They then visit the graves of the departed with these as gifts.
The Day of the Dead celebrations have a long history in Mexican tradition, originating from ancient customs among its pre-Columbian cultures.

Teotihuacan
Teotihuacan is a vast ancient city located just northeast of Mexico City. It was the largest, most influential, and certainly most revered city in the history of the New World. It flourished in the beginning of the first millennium CE, and at its height, the city had a population of over 200,000 making it one of the biggest cities in the world at the time. The city is characterized by the massive size of its monuments laid out on geometric and symbolic principles.
Tepoztlan
Tepoztlan is a beautifully situated ancient town with a well-preserved historic center surrounded by soaring jagged cliffs. It's known as the reputed birthplace of Quetzalcoatl, the Aztec feathered serpent god, and for its weekly craft market. Next to the market sits a 16th-century former Dominican monastery, the Tepoztlan Ex-Convent, containing a local history museum. Tepoztlan was named a "Pueblo Mágico" in 2002.
Connect
Have a question? Email us directly, or use our handy question box.