Cádiz to Morocco
Travel the south of Spain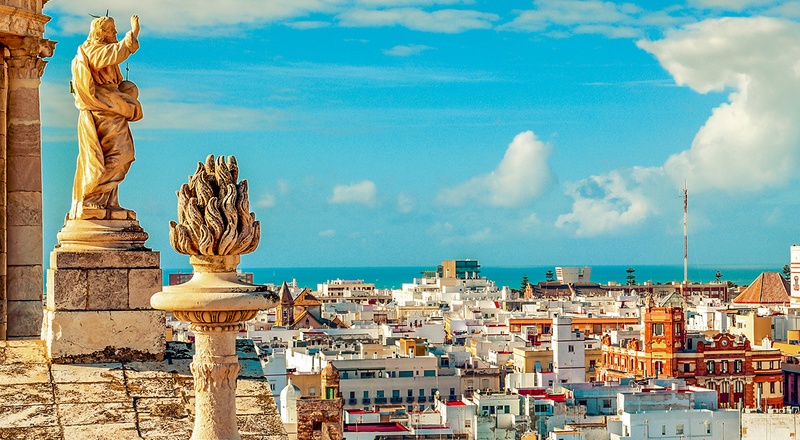 Tangier, Morocco
Tangier lies on the North African coast at the western entrance to the Strait of Gibraltar where the Mediterra- nean meets the Atlantic Ocean. The history of Tangier is very rich due to the historic presence of many civilizations and cultures starting from the 5th century BC.
Seville
Seville is the capital of Andalusia and is situated on the plateau of the River Guadalquivir. The city was known from Roman times as Hispalis, and after Moorish invasion its name was changed to Ishbiliya. In 1248, the city finally became known as Sevilla or Seville (English). We will be visiting the Cathedral (3rd largest cathedral in the World), Christopher Columbus' tomb and monument, the Alcázar of Seville and finally the old town.
Port of Cádiz
Cádiz is the oldest and most southern city in Western Europe. Despite its unique site — on a narrow slice of land surrounded by the sea — Cádiz is, in most respects, a typical Andalusian city with a wealth of attractive vistas and well-preserved historic landmarks. It has a long and fascinating history, absorbing monuments, interesting museums and many beautiful beaches.
Córdoba
An Iberian and Roman city in ancient times, in the 10th and 11th centuries, Córdoba was the most populous city in the World and during these centuries became the intellectual center of Europe. We will tour the Roman Bridge, the Mezquita of Córdoba (Cathedral/Mosque), the ancient Jewish Synagogue (now a museum) and the old town.
Connect
Have a question? Email us directly, or use our handy question box.