Vimy Ridge France
Vimy Ridge and Normandy, with a possible 5 day extension to Nice.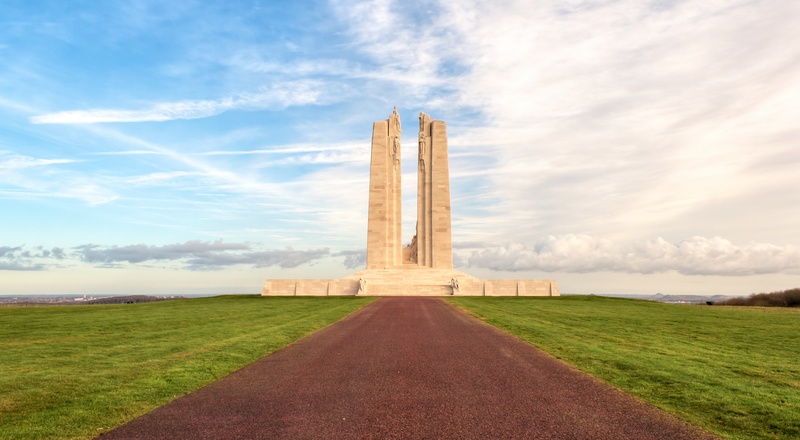 Vimy Ridge
The Battle of Vimy Ridge
The Battle of Vimy Ridge, which took place in April of 1917, is considered by many historians and writers a defining event for Canada. The country rose from under the shadow of The British Empire and began its evolution from dominion to independent nation.
Canadian soldiers earned the reputation for being remarkable, effective troops because of their striking victory at Vimy. But success came at an enormous cost, with over 10,000 soldiers killed and wounded, the biggest loss suffered by Canada in a single day during the First World War.
To highlight the sacrifices made by Canadians, who suffered more than 60,000 casualties during the First World War, the French government ceded to Canada Vimy Ridge, and the land surrounding it to build and maintain a memorial. That site is today regarded as our most important war memorial and one of the most inspiring First World War monuments.

Paris
Paris is France's capital and most populous city. It's an international center for fashion, art, food and culture. Situated on the river Seine, its enchanting 19th-century cityscape is interwoven by broad boulevards. Famous landmarks include the Eiffel Tower, the Gothic Notre-Dame cathedral and the Arc de Triomphe. The city is well known for its cafe culture, and designer boutiques along the Rue du Faubourg Saint-Honoré.

Normandy
The largest military landing in history took place in Normandy during WW2. The Battle of Normandy—from the D-Day landings, on 6 June, 1944 to the encirclement of the German army at Falaise on 21 August of the same year—was one of the key events of the Second World War and the scene of some of Canada's greatest feats of arms.
Nice
Optional 5-Day Extension to Nice
Nice, capital of the French Riviera, skirts the pebbly beaches of the Baie des Anges, located in the Côte d'Azur region on the south-east coast of France. The natural beauty of the area with its mild Mediterranean climate and picturesque surroundings make it the ideal destination not only for those in search of relaxation, but also those seeking inspiration.
Monaco
Monaco is an independent city state on France's coastline located between the foot of the Southern Alps and the Mediterranean, less than an hour's drive from Nice. Known for its glitzy casinos, yacht-lined harbor and famed Grand Prix motor race, it's only 2 square kilometers in size making it the second smallest sovereign nation in the world.
Connect
Have a question? Email us directly, or use our handy question box.